We recently updated some features in the Accrualify platform to create a better experience for you and your vendors. Key updates include:

Workflow for New Vendors
Popularly requested; finally implemented! You can now put newly requested vendors through workflow similar to POs, invoices, and payments. If you would like help setting up a workflow for new vendor approvals, please reach out to support@accrualify.com.

Accrued Item Listing Report
We've added an additional canned report for Accrued Item Listing. Simply go to the reporting section in Accrualify to access this new report.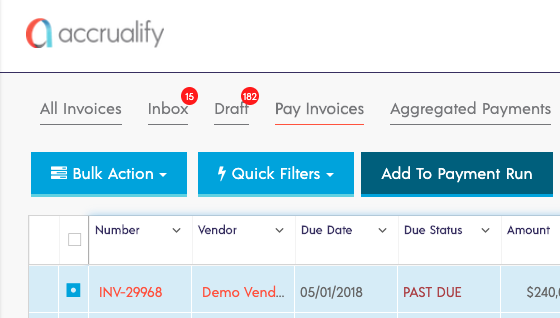 Payment Run Builder
We've upgraded the payment run builder to now allow you to review and edit payment runs before submitting for approval. This functionality is now available in the Pay Invoices section of Accrualify.

"Submit All Invoices..." in Pay Invoices
For our customers dealing with larger volumes of invoices, we'v created the ability to submit all payable invoice for payment or to add to a payment run. You can find these in the orange drop down button in the Pay Invoices section.
Additional Platform Updates
Improvements to Payoneer integration functionality
More features for the Corporate Card Module BETA
UI improvements
General perfomance enhancements
Bug fixes